A pioneer of Indian modern art, Amrita Sher-Gil was among the greatest avant-garde women artists of the 20th century. Hardly acknowledged in her lifetime, her work especially the famous portrait paintings is considered among the most expansive by any Indian artist.
Born in Budapest on Jan 30, 1913, to an Indian Sikh father (Umrao Singh Sher-Gil, a Sanskrit scholar) and a Hungarian mother (Maria Antoinette, an opera singer), her aesthetic sensibility was a blend of European and Indian elements.
Growing up in Budapest, Hungary, Sher-Gil began to draw and paint at a young age. She learnt the art of self-portraiture from her father, who had a passion for photography and went to nurture it as a distinct feature of her oeuvre.
Spending time both in Europe and India, she was exposed to a varied culture which she vastly enriched in her work and self-expression.
With an excellent command over handling of oils and vigorous brushwork, Sher-Gil's famous self-portraits are hypnotic, wherein one discovers femininity and a deep sense of melancholy in the pensive faces.
Reflecting her many moods, Sher-Gil's self-portrait series painted in around 1930 form a significant corpus of her work. Let's discover some of her famous portrait paintings.
In this oil-on-canvas painting above, she has captured a seductive and exuberant mood. In this painting, one can see the rich painterly treatment of colours depicting a provocative young woman with bold red lips, dark, cascading hair, prominent eyes with a teasing smile.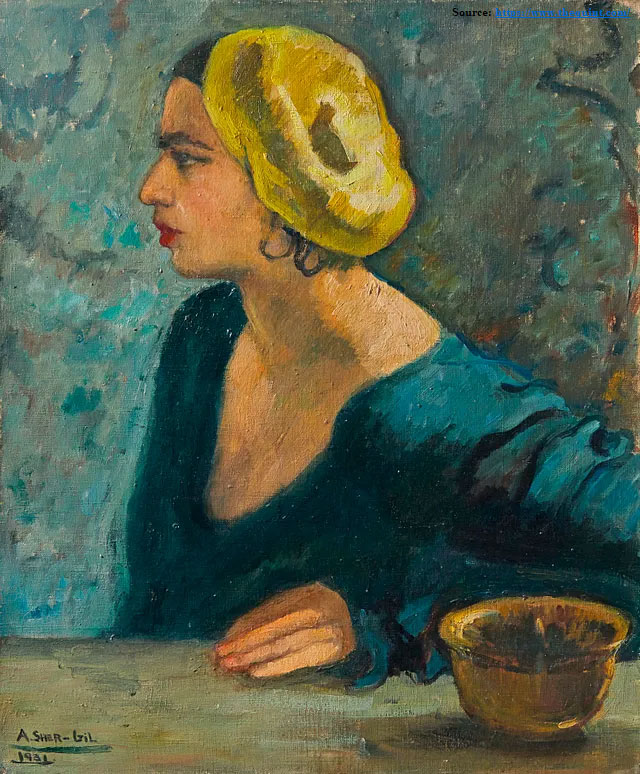 This self-portrait of Sher-Gil fetched £1.7 at auction at Christie's in London in 2015.
Painted in 1931, when she was in Paris for the first time to study at the famous French art school, the Ecole des Beaux-Arts.
It is believed that Sher-Gil's mother wanted her to marry a affluent landowner's son but she was in love with her cousin, Victor Egan. She has captured the same troubled expression in the painting.
Wearing a French-style hat, called beret, she is looking away so as to avoid any interaction with the viewer. The golden bowl sitting empty next to her reflects the emotional emptiness that she experienced as an 18-year-old, torn between the various loves of her life.
Created in 1930, this portrait painting depicts her as an elegant, fur-clad young lady with minimalist jewellery and a beret.
The pose in this famous portrait painting is indeed very static, yet the brilliant use of colour by Sher-Gil lends substantial energy and vitality to the artwork.
Painted in 1933, this is a rare and the most famous portrait painting by Amrita Sher-Gil which was sold for a record of $2.92 million in Sotheby's New York auction!
In this self-portrait, her look is full of expectant desire with a slight hint of an enigmatic smile and a mischievous twinkle in her eye. However, it is the fiery-red lips that draw the viewer's attention.
The chiaroscuro effect is captured brilliantly in the painting wherein the light is seen hitting the side of her face, surrounded by the darker colours of her clothing, hair and the background. No wonder, this charming 18x13 inch self-portrait is a leading example of Sher-Gil's oeuvre.
A Hungarian-Indian, Sher Gil's 'Self-Portrait as a Tahitian' is the perfect representation of her exploration of the body and the self, caught in convoluted coordinates of nationality as well as sexuality.
Adapting the nude-art style popularised by the French artist Paul Gauguin, she presented herself as a Tahitian in this famous portrait painting.
This self-portrait seems sexually complex, displaying her uncanny ability to express her thoughts and ideas on the canvas.
Wrap Up
Sher Gil's early paintings displayed a huge western influence which she mainly practised around 1930s in the Bohemian circles of Paris. Her work at that time included famous self-portraits paintings in various moods, life in Paris, portraits of friends and fellow artists.
She received a gold medal at the age of 20 years, including membership of the Grand Salon in Paris in 1933 for her oil painting titled 'Young Girls'. The painting reflects the different aspects of Sher-Gil's personality, outgoing and easy to get along.
Longing to get back to her roots, she returned to India in 1934 which marked a new phase in her art journey. During her stay in India, she rediscovered traditional Indian art which greatly influenced her work and created famous paintings such as Ladies Enclosure, Siesta and Village Scene, a trilogy of Bride's Toilet, and Brahmacharis.
"I can only paint in India. Europe belongs to Picasso, Matisse, Braque, and many others. India belongs only to me." — Amrita Sher-Gil
She died in December of 1941 at a young age of 28 years and days before opening her first major solo exhibition. Her life was short, but very prolific, as she left a legacy of artwork.
With a fearless and rebellious spirit, Sher-Gil was indeed an artist who defied norms!